Hi all!
Soo happy its finally Friday! Even though we had off on Monday this week just couldn't go by fast enough. I am prepping all weekend long to get ready for our trip next weekend!! Its finally here, I cannot believe how quick that came up on us.  So in preparation for this trip, aside from the usual gel mani/pedi, lash extensions etc., I am doing a juice cleanse this weekend!
I came across Jus by Julie while doing some research and they were having a sale on their 3 day cleanse so I decided "what better time then right before my trip to try this!"  I am very excited to start the cleanse tomorrow.  I just thought I would talk a little bit about what I am expecting from this as well as what they say they are offering and then I will do a follow up post next week on if I liked it/didn't like it and if I lost any weight etc.
So this is a 3 day juice cleanse.  That's right, no solid food for 3 full days, bring it on!  They had a promotion where you can get the 3 day cleanse plus 12 booster shots for free AND $30 off AND free shipping.  It came to $120 which I thought was rather reasonable for 3 full days of "food" also with the hopes of shedding some weight.  They give you 18 juices total and you are supposed to drink 6 a day.  They say to drink them about every 3 hours or when you are starting to feel hungry.  They come labeled so you know which one to drink 1st, 2nd etc. on each day.  They also said the juices will last in the freezer up to 2 weeks if you decide to not start the cleanse immediately.  I thought doing it over the weekend would be so much easier then trying to bring 4/5 juices with me to work.  So I just have to bring them with me on Monday since I will start tomorrow.
I read a lot of reviews (most were very positive) which intrigued me even more to try this out.  A lot reviews said they were surprisingly not hungry during it, they had a lot of energy and dropped a few pounds.  My hope is that I will be able to lose a couple of pounds, de-bloat a little and just overall detox myself.  After last weekend (4th of July) I feel like a detox is a good thing lol.
Jus by Julie has promos a lot on their site, the 3 day cleanse + 12 free booster shots and $30 off + free shipping (that I just purchased) is still going on with promo code JUICENOW.  If you get their emails they send you promotions as well which is nice if you choose to do it again and do not want to pay full price.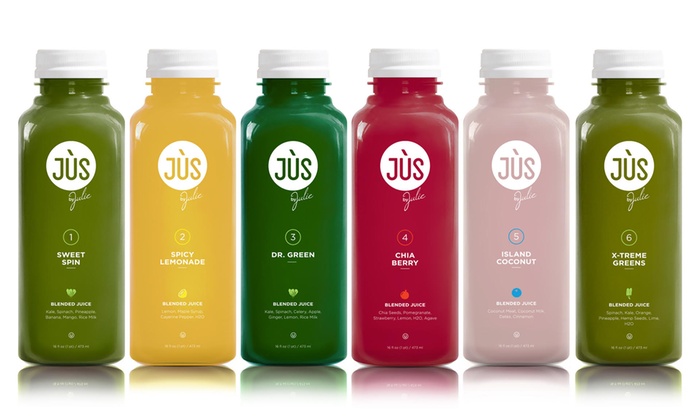 I am excited for the follow up next week, so to be continued…
Any one out there try this cleanse?? Thoughts on it, love it? hate it? results? Would love to hear!
xoLauren